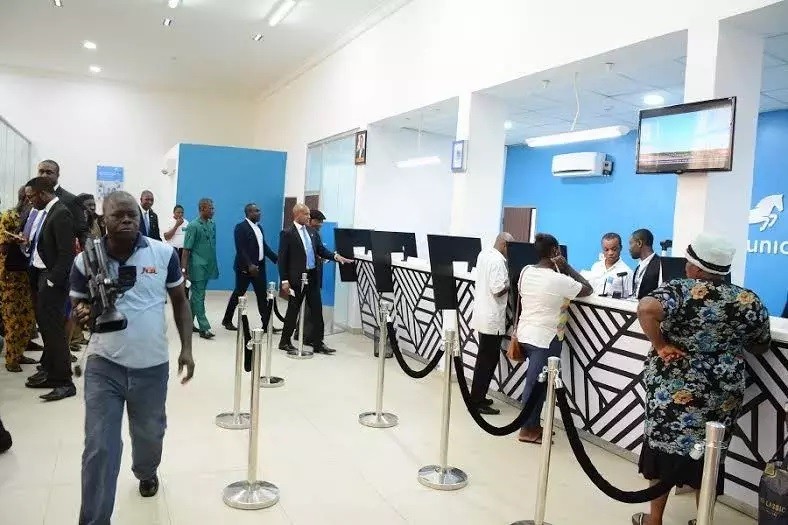 As part of efforts to deliver quality banking solutions to its wide customer base across Nigeria, Union Bank of Nigeria, Plc. extended its transformation activities to Anambra State with the launch of 2 newly upgraded branches and a Smarter Banking Centre.
The Bank launched a brand new Smarter Banking Centre at the Federal Polytechnic, Oko as well as two upgraded branches located at No. 1, Bright Street, Onitsha and No. 41, Uga Street, Onitsha, Anambra State.
The one-of-a-kind Smarter Banking Centre is designed to offer innovative services to Union Bank's mobile customers. With its all-in-one standalone 24 hour boutique for self-service banking, customers can open their accounts, deposit and withdraw cash via the ATMs.

The centre also has interactive projector screens which enables 24 hour live video chat with a customer care representative. The user friendliness of the Smarter Banking Centre ensures that the staff, students and all customers within and around the Federal Polytechnic Oko can enjoy quick, convenient and hassle free banking.

"At Union Bank, quality is our watchword, from our customer experience to our state-of-the-art banking platforms, we want to ensure that banking is indeed seamless for our customers. Previously, each branch operated as a standalone but now we have installed a core centralized banking platform that ensures our customers can carry out their transactions conveniently in real time from any location." said Joe Mbulu, Transformation Director, Union Bank while addressing the students and special guests at the Oko branch launch.

Expressing the Polytechnics' gratitude towards Union Bank, Lecturer, Department of Architectural Technology, Federal Polytechnic Oko, Chika Eni (Arc. Dr.) said "We are grateful to Union Bank for putting Federal Polytechnic Oko on the banking map with this innovative branch. They could have come to just put an ATM system here but instead they decided to equip our campus with the best of banking technologies."

"With almost 100years of experience in Nigeria's banking space, it is no surprise that we are highly committed to our customers. We have installed new technologies, revamped our processes and upgraded the core banking infrastructure, all just to ensure that they receive the best services. We now employ banking mechanisms that do not waste time so that our customers can focus on things that matter, empowering them to be efficient at their businesses." said Emeka Okonkwo, Executive Director of Corporate Banking, Union Bank of Nigeria at the launch of the Niger Bridge branch on Uga Street.

With over 300 sales and service centres across Nigeria, Union Bank continues to leverage on its heritage and wealth of experience to deliver simpler and smarter banking services to its esteemed customers in this rapidly changing social and economic space.

Notes to editors:
About Union Bank Plc.
Established in 1917 and listed on the Nigerian Stock Exchange in 1971, Union Bank of Nigeria Plc. is a household name and one of Nigeria's long-standing and most respected financial institutions. The Bank is a trusted and recognizable brand, with an extensive network of over 300 branches across Nigeria.

In late 2012, a new Board of Directors and Executive Management team were appointed to Union Bank and in 2014 the Bank began executing a transformation programme to re-establish it as a highly respected provider of quality financial services.
The Bank currently offers a variety of banking services to both individual and corporate clients including current, savings and deposit account services, funds transfer, foreign currency domiciliation, loans, overdrafts, equipment leasing and trade finance. The Bank also offers its customers convenient electronic banking channels and products including Online Banking, Mobile Banking, Debit Cards, ATMs and POS Systems.

For more information about Union Bank of Nigeria, please visit www.unionbankng.com
Forward Looking Statement and Disclaimers
This announcement does not constitute or form part of any offer or invitation to purchase, otherwise acquire, issue, subscribe for, sell or otherwise dispose of any securities, nor any solicitation of any offer to purchase, otherwise acquire, issue, subscribe for, sell, or otherwise dispose of any securities.
The release, publication or distribution of this announcement in certain jurisdictions may be restricted by law and therefore persons in such jurisdictions into which this announcement is released, published or distributed should inform themselves about and observe such restrictions.