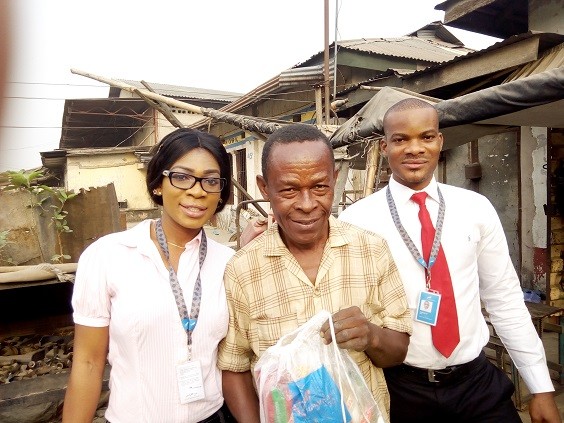 Lagos, Nigeria – Union Bank, one of Nigeria's leading financial institutions, has deployed its UnionCares campaign, an initiative aimed at donating over 8,500 care bags containing staple food items to underprivileged persons across the country over the festive season.
This move underscores the Bank's commitment to actively supporting the communities within which it operates and improving the plight of the less privileged in the society.
The UnionCare bags containing food items such as rice, beans, oil, salt, and stews were jointly funded by the Bank and its employees. The bags are being distributed in orphanages, nursing homes, slums and indigent communities across all 36 states and the FCT in the spirit of the season.
Speaking on the UnionCares campaign, the Bank's Head of Corporate Affairs and Corporate Communications, Ogochukwu Ekezie-Ekaidem said:
"This is that time of the year when we look forward to celebrating with family and friends. Unfortunately many Nigerians cannot afford any such celebration. We launched this initiative to put smiles on as many faces as possible this season. Union Bank staff are always ready to give to a good cause and their inspiring commitment to improving the lives of Nigerians through the UnionCares campaign is commendable."
In the 2016 UnionCares4IDPs campaign, employees of the Bank raised an outstanding N15m which was matched with another N15m by the Bank in donations to the Internally Displaced Persons (IDPs) in the North East of Nigeria.
The funds raised in 2016 were used to provide much needed blankets for the IDPs during the harsh harmattan season as well as the refurbishment of classroom blocks in Balhona Primary and Hong Central Primary schools in Gombi and Hong Local Government Areas of Adamawa State. A primary healthcare centre in Askira, Borno State was also refurbished and essential medical supplies were donated.
In celebration of its 100th anniversary, the Bank also launched 'The Next 100 Fund' this October, which is a call for active private sector participation towards the actualization of some Sustainable Development Goals (SDGs) with the long term goal of changing the trajectory of Nigeria and setting the nation on the path of true and sustainable prosperity.
As Union Bank launches into its second century of service to Nigerians, the bank remains committed to being a socially responsible organization, actively and sustainably supporting the communities within which it operates.
###
Note to editors:
About Union Bank Plc.
Established in 1917 and listed on the Nigerian Stock Exchange in 1971, Union Bank of Nigeria Plc. is a household name and one of Nigeria's long-standing and most respected financial institutions. The Bank is a trusted and recognizable brand, with an extensive network of over 300 branches across Nigeria.
In late 2012, a new Board of Directors and Executive Management team were appointed to Union Bank and in 2014 the Bank began executing a transformation programme to re-establish it as a highly respected provider of quality financial services.
The Bank currently offers a variety of banking services to both individual and corporate clients including current, savings and deposit account services, funds transfer, foreign currency domiciliation, loans, overdrafts, equipment leasing and trade finance. The Bank also offers its customers convenient electronic banking channels and products including Online Banking, Mobile Banking, Debit Cards, ATMs and POS Systems.
More information can be found at: www.unionbankng.com
Media Enquiries: Email [email protected]
-Ends-