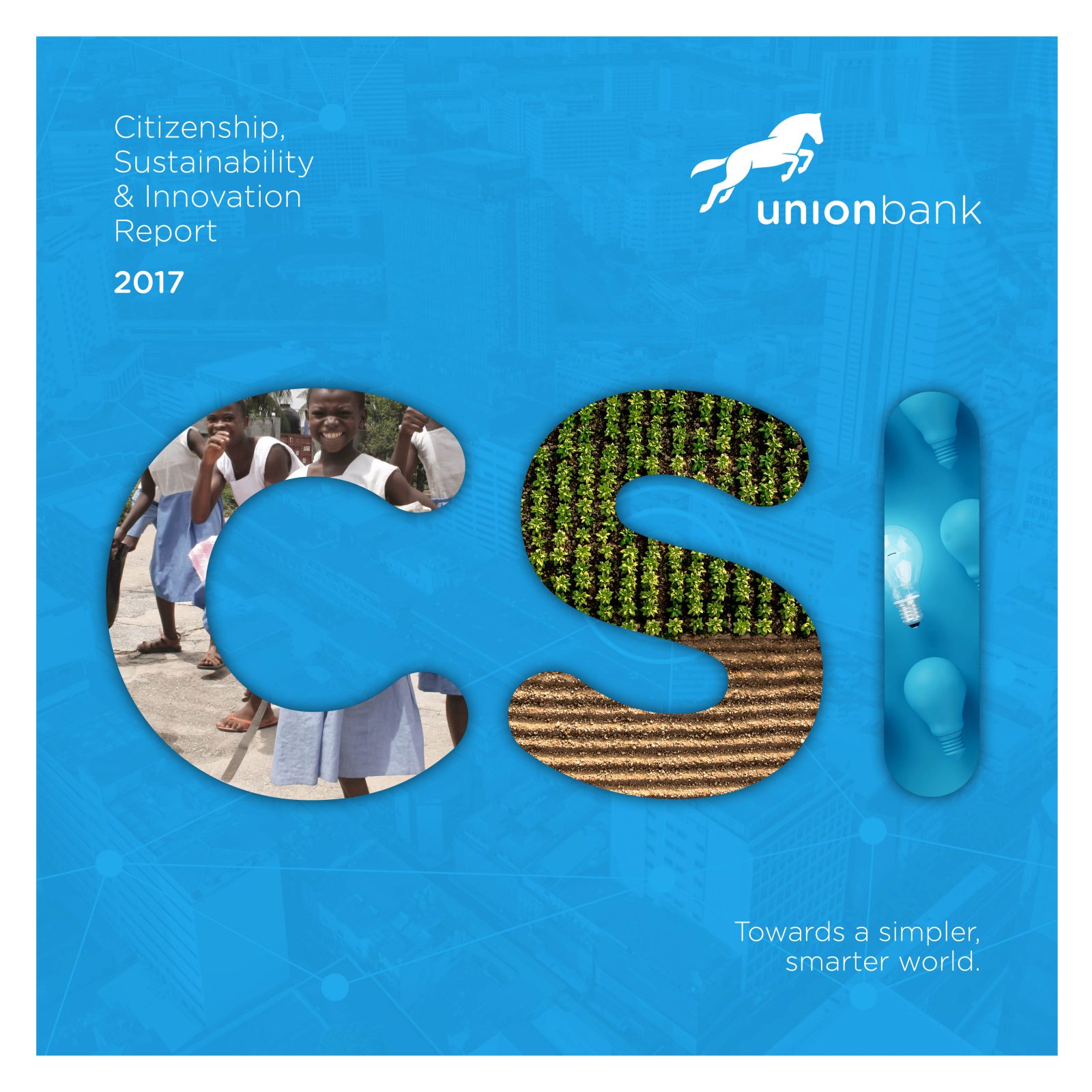 Lagos, Nigeria – Union Bank has announced the release of its second Citizenship, Sustainability and Innovation (CSI) report – an annual compendium which highlights the bank's strategic approach, initiatives and impact made in the areas of Citizenship, Sustainability and Innovation within the last year.
The report touches on the impact Union Bank made within its host communities in 2017 and its commitment to its customers and other stakeholders. It also emphasizes the bank's vision to inspire a future where private sector participants are committed drivers of the nation's sustainable development.
In its dedication to local communities, Union Bank has invested heavily in providing Nigerians access to inclusive financial services and championing financial literacy for future generations in schools across the country. In 2017, the bank went a step further, expanding the reach and impact of this initiative and increasing the number of students impacted from 3,000 in 2016 to 6,000 in 2017.
The Bank also launched 'Project North', an initiative to tackle financial exclusion in the North, including areas where economic activities are gradually recovering following the insurgency which affected the socio-economic stability in those areas. In 2017 alone, as part of efforts to drive financial inclusion of all Nigerians, Union Bank opened over 600,000 new accounts under this scheme.
Speaking concerning the release of the 2017 CSI report, Chief Executive Officer, Union Bank, Emeka Emuwa said:
"This annual reports gives credence to our positioning as a Bank truly committed to the communities in which we operate. Our Corporate Social Investment is central to our core business and commitment to the triple bottom line of responsible financial, environmental and socio-economic development.
We are committed to the ten principles of the United Nations Global Compact regarding the adoption of sustainable and socially responsible policies in human rights, labour, the environment, anti-corruption, and of course, reporting on their implementation."
In 2017, as the Bank celebrated a century of providing trusted banking services, a critical aspect of its citizenship efforts was leading the charge for sustainable development in Nigeria into the next century. This it did by making a call to action for 'The Next100 Fund' initiative, as a means to galvanise private sector participation in accelerating Nigeria's economic development, leveraging the Sustainable Development Goals (SDG) framework.
Successfully embedding sustainability practices into its banking processes, Union Bank has continued to develop simpler and smarter products and services that are relevant to Nigerians. Last year, the bank launched its first ever recycling competition 'Recyclemania' to raise awareness about, and encourage the act of recycling among employees of the Bank.
The bank has also created an inclusive and empowering environment for its employees through various initiatives. One of such initiatives is its Women Empowerment hub, WeHub, which continues to motivate, connect and provide support to Union Bank female employees.
Last year, Union Bank also intensified efforts to embed an innovative culture in Nigerian youths by promoting and rewarding innovation and creativity. The Centenary Innovation Challenge was organised to find and support great ideas that address the SDGs in entrepreneurial ways which enable economic and societal growth and build an inclusive society for young Nigerians.
The release of the second edition of its CSI report underscores Union Bank's commitment to maintaining its leading position as a sustainability champion and a socially driven and responsible corporate organisation.
To see the report, please click HERE.
###
Note to editors:
About Union Bank Plc.
Established in 1917 and listed on the Nigerian Stock Exchange in 1971, Union Bank of Nigeria Plc. is a household name and one of Nigeria's long-standing and most respected financial institutions. The Bank is a trusted and recognizable brand, with an extensive network of over 300 branches across Nigeria.
In late 2012, a new Board of Directors and Executive Management team were appointed to Union Bank and in 2014 the Bank began executing a transformation programme to re-establish it as a highly respected provider of quality financial services.
The Bank currently offers a variety of banking services to both individual and corporate clients including current, savings and deposit account services, funds transfer, foreign currency domiciliation, loans, overdrafts, equipment leasing and trade finance. The Bank also offers its customers convenient electronic banking channels and products including Online Banking, Mobile Banking, Debit Cards, ATMs and POS Systems.
More information can be found at:  www.unionbankng.com
Media Enquiries: Email yowonubi@unionbankng.com
-Ends-