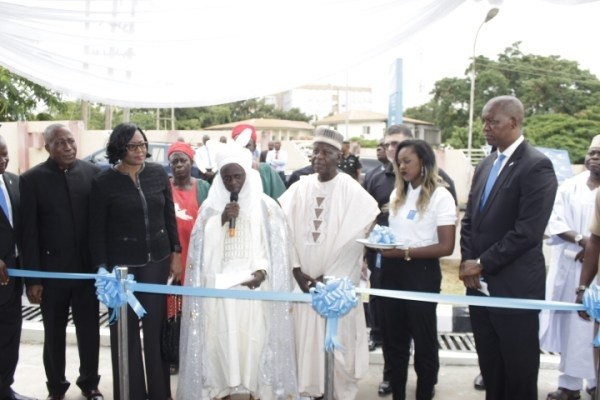 Union Bank of Nigeria Plc. stormed Abuja, Nigeria's capital city with a series of activities to further reflect its commitment towards delivering a simpler and smarter bank to its customers. The transformation activities include the launch of three (3) newly upgraded branches, a networking series for entrepreneurs and professionals as well as a digital training workshop for millennials.
The three upgraded branches of the Bank unveiled are located at Federal Secretariat Complex, Area 1, Garki; Veterinary Council Building, Maitama and Area 3, Garki.
In his opening remarks, the Chief Executive Officer, Union Bank, Emeka Emuwa said, "We are here today to unveil to you, results of the transformation we started three (3) years ago. Given our almost 100 year heritage, we recognize the need to adapt to the changing economic space, to prepare for the future, to deliver quick and efficient services to customers, to be nimbler and better without giving up our heritage and values."
Restructuring and upgrading our branch network also extends to our mobile and online banking platforms, we now have fast and secure mobile and online banking platforms – UnionMobile and UnionOnline, to enable our customer's bank better and at their own convenience."
The Bank also launched its innovative networking series, Engage, a leadership and networking series for young professionals, entrepreneurs and business leaders to connect and share innovative ideas and foresight on how to thrive in a bearish economy.
Entrepreneurs and professionals present at the Engage event include: Director Corporate Banking, Union Bank, Emeka Okonkwo; Transformation Director, Union Bank, Joe Mbulu; Head of Communication and Media, Omotola Oyebanjo; Head of Change Management, Chienye Ogwo; Head of Branch Network Transformation, Edward Ogunmekan; CEO, CC Consulting Services, Chioma Agwuebo; CEO/Chief Photographer, George Okoro Photography, George Okoro; CEO Fusion Lifestyle Ltd., Dr Samiah Oyekan-Ahmed; Principal Consultant, L & D Consulting, Mr Uche Onyemobi; Columnist and Blogger, Omojuwa.com, Japheth Omojuwa; amongst others.
In addition, the financial institution hosted a digital skills training workshop supported by Google to equip millennials with fundamental digital marketing skills, enabling them to open world of opportunities in this changing times.
Union Bank's improvement in technology, people, banking products, and engagement platform is a testament to its ability to adapt to changing economic and social space so as to deliver better service to its current and prospective customers.
Notes to editors:
About Union Bank Plc.
Established in 1917 and listed on the Nigerian Stock Exchange in 1971, Union Bank of Nigeria Plc. is a household name and one of Nigeria's long-standing and most respected financial institutions. The Bank is a trusted and recognizable brand, with an extensive network of over 300 branches across Nigeria.
In late 2012, a new Board of Directors and Executive Management team were appointed to Union Bank and in 2014 the Bank began executing a transformation programme to re-establish it as a highly respected provider of quality financial services.
The Bank currently offers a variety of banking services to both individual and corporate clients including current, savings and deposit account services, funds transfer, foreign currency domiciliation, loans, overdrafts, equipment leasing and trade finance. The Bank also offers its customers convenient electronic banking channels and products including Online Banking, Mobile Banking, Debit Cards, ATMs and POS Systems.
For more information about Union Bank of Nigeria, please visit www.unionbankng.com
Forward Looking Statement and Disclaimers
This announcement does not constitute or form part of any offer or invitation to purchase, otherwise acquire, issue, subscribe for, sell or otherwise dispose of any securities, nor any solicitation of any offer to purchase, otherwise acquire, issue, subscribe for, sell, or otherwise dispose of any securities.
The release, publication or distribution of this announcement in certain jurisdictions may be restricted by law and therefore persons in such jurisdictions into which this announcement is released, published or distributed should inform themselves about and observe such restrictions.
Contact Information:
Investor Relations:
investorrelations@unionbankng.com
Media Inquiries:
ojadekola@unionbankng.com