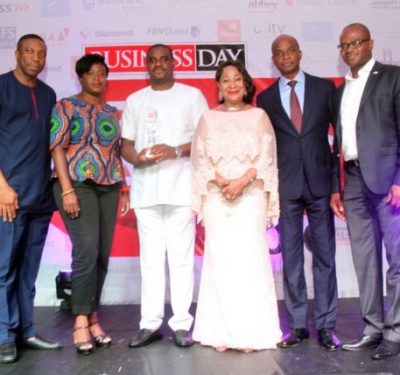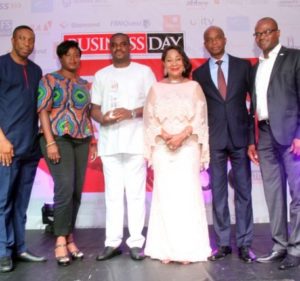 Union Bank has been adjudged the 'Most Improved Bank in Retail Banking" in the country.
The award was presented to the bank during the annual banking award organised by Business Day Newspapers in Lagos.
Speaking at the event, the Head of Retail Banking, Carlos Wanderley said this award is a clear indication that the innovative processes and products we have been working hard at for the last three years is yielding positive results and the bank is on the right path.
"We recognise the affinity that the bank has with millions of Nigerians and we feel a responsibility to ensure that we are providing products and services that meet the needs of the average Nigerian. We have restructured and upgraded our branch networks, which is a critical piece of providing excellent banking services, and this award reflects the successes that the bank has achieved so far", he said.
Also speaking at the event, the Head Alternate Channels, Folorunsho Orimoloye said "Our goal is to build a simpler, smarter bank, focused on delivering value by providing quality financial solutions to our customers" he said.
He further explained that Union Bank has been a key player in the retail space and that the bank carries out constant interaction with customers to adequately cater for their needs.
" One of our critical focus areas as a Bank is to significantly improve our customer experience in all our touch points, and our product and service offerings was the first phase of improvements and this has clearly yielded the desired results with the bagging of the Most Improved Bank in Retail Banking awards. The Bank will continue to provide quality banking services and improved customer experience to all our customers and stakeholders across all our touch points," he concluded.
About Union Bank Plc.
Established in 1917 and listed on the Nigerian Stock Exchange in 1971, Union Bank of Nigeria Plc. is a household name and one of Nigeria's long-standing and most respected financial institutions. The Bank is a trusted and recognizable brand, with an extensive network of over 300 branches across Nigeria. In late 2012, a new Board of Directors and Executive Management team were appointed to Union Bank and in 2014 the Bank began executing a transformation programme to re-establish it as a highly respected provider of quality financial services. The Bank currently offers a variety of banking services to both individual and corporate clients including current, savings and deposit account services, funds transfer, foreign currency domiciliation, loans, overdrafts, equipment leasing and trade finance. The Bank also offers its customers convenient electronic banking channels and products including Online Banking, Mobile Banking, Debit Cards, ATMs and POS Systems. More information can be found at: www.unionbankng.com