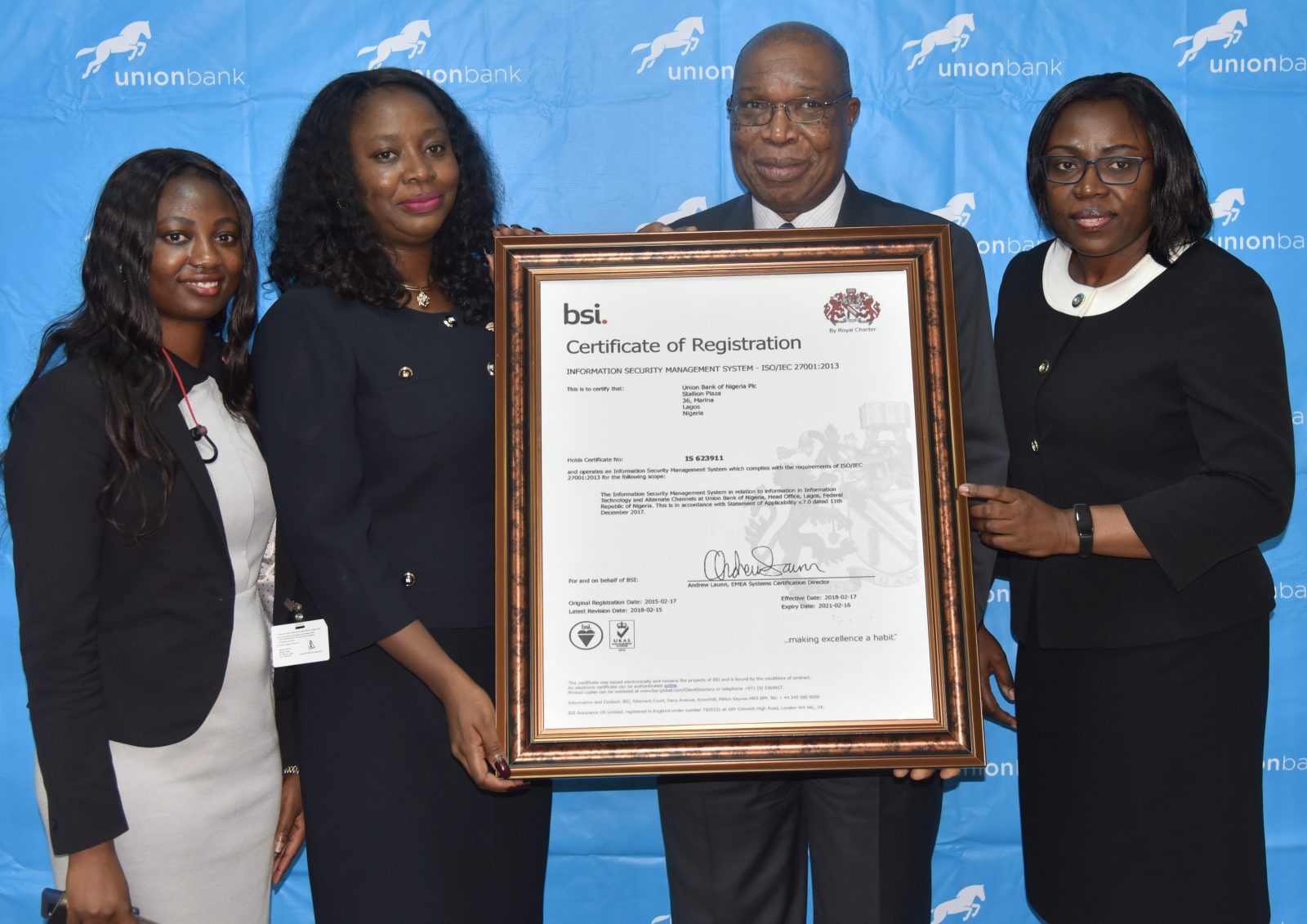 Union Bank, one of Nigeria's most trusted financial institutions has announced its attainment of the Payment Card Industry Data Security Standard (PCI DSS) version 3.2 recertification and the International Organisation for Standardisation ISO/IEC 27001:2013 certification.
The Bank was awarded by Panacea Infosec, Qualified Security Assessor (QSA) in conjunction with their local partner- Digital Encode, having successfully met the stringent security requirements needed to achieve the PCI DSS version 3.2 certification.
The PCI DSS is an international data security standard which all organisations must adhere to in order to accept payment cards, and to handle or transmit cardholder data. This standard ensures secure processing of card payments and the reduction of card fraud.
The information security management system ISO/IEC 27001:2013 is an internationally recognised standard which specifies the requirements for the establishment of an effective information management security system.
These certifications enable the bank offer its customers improved data security against card fraud, identity theft, insider threats, cybercrime, hacking and other security exposures.
Commenting on the Bank's recent attainment, Executive Director and Head of Service and Technology at Union Bank, Nath Ude said:
"The Bank's compliance with international best practices certified by an independent third-party audit, confirms our ability to build, implement and maintain best security practices.
We assure our customers of our commitment to maintaining the highest standards of information security as we continue to provide them with simpler, smarter services."
Following a directive issued in July 2012 by the Central Bank of Nigeria (CBN), Union Bank became the first Nigerian financial institution to be certified in 2014 with the Payment Card Industry Data Security Standard (PCI DSS) – Version 3.0.
Union Bank's adherence to the strictest information security standards highlights its positioning as one of Nigeria's most trusted financial institutions.
###
Note to editors:
About Union Bank Plc.
Established in 1917 and listed on the Nigerian Stock Exchange in 1971, Union Bank of Nigeria Plc. is a household name and one of Nigeria's long-standing and most respected financial institutions. The Bank is a trusted and recognizable brand, with an extensive network of over 300 branches across Nigeria.
In late 2012, a new Board of Directors and Executive Management team were appointed to Union Bank and in 2014 the Bank began executing a transformation programme to re-establish it as a highly respected provider of quality financial services.
The Bank currently offers a variety of banking services to both individual and corporate clients including current, savings and deposit account services, funds transfer, foreign currency domiciliation, loans, overdrafts, equipment leasing and trade finance. The Bank also offers its customers convenient electronic banking channels and products including Online Banking, Mobile Banking, Debit Cards, ATMs and POS Systems.
More information can be found at:  www.unionbankng.com
Media Enquiries: Email yowonubi@unionbankng.com