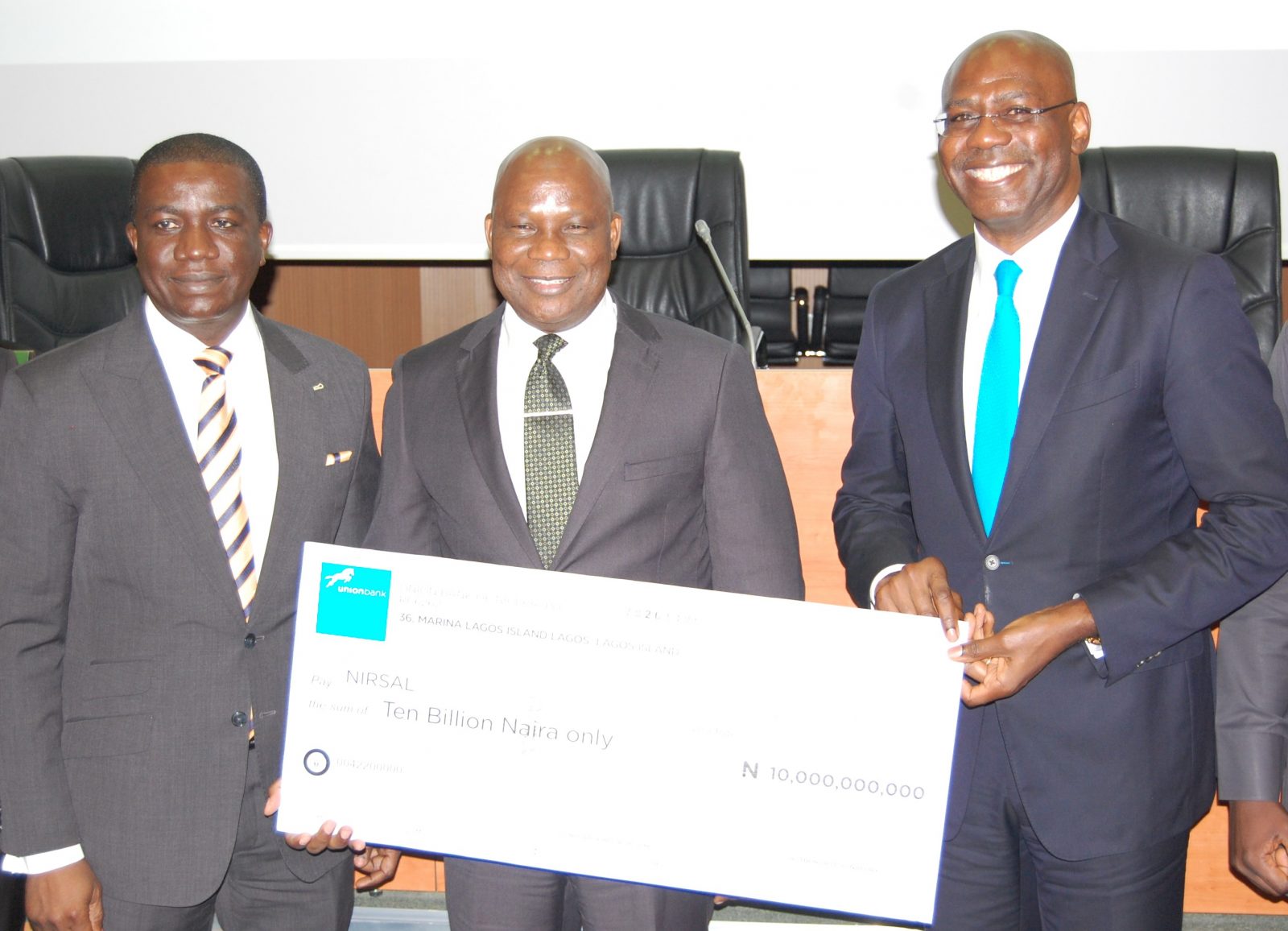 Lagos, Nigeria – Union Bank recently launched its N10 billion agricultural funding scheme on the platform of the Nigeria Incentive-Based Risk Sharing System for Agricultural Lending (NIRSAL), an all-inclusive lending program established to de-risk lending to the Nigerian agricultural sector.
The Bank's move in this direction is to support the economic recovery and growth plan of the Federal Government of Nigeria and specifically to achieve the macro-economic multiplier effect of job creation and increase in GDP.
The partnership was launched at a ceremony that took place at the NIRSAL head office in Abuja with Senior Executives and Management of both organizations in attendance.
According to Emeka Emuwa the Chief Executive Officer of Union Bank:
"Union Bank remains committed to supporting the Nigerian agricultural sector. This deep – rooted support stems from a clear understanding that we must contribute actively to the empowerment of small farmers and agricultural stakeholders across the country in order to unlock the growth potential of the sector.
We are confident that the N10 billion credit facility which we have launched today will go a long way to boost agricultural productivity in the country particularly at this time when the Federal Government seeks to steer the economy away from its heavy reliance on the oil and gas sector.
The N10 billion agricultural fund by Union Bank will be accessible to players operating at various stages of the agricultural value chain including smallholder farmers, cooperatives and farmer groups, large scale primary producers, integrated farmers, processors, agro-dealers as well as input and equipment suppliers.
Managing Director of NIRSAL, Mr. Aliyu Abdulhameed while expressing his contentment about the launch of the scheme mentioned that the partnership is in line with NIRSAL's mandate to attract private sector finance to agriculture.
"The coming on board of Union Bank has edged us a lot closer to our target. I must commend the Management of the Bank for taking a bold step in the right direction by partnering with us on this vision aimed at reshaping the financing landscape of Nigeria's agricultural economy."
Union Bank's vibrant support for the Nigerian agricultural sector through the years has not gone unnoticed as it emerged "Best Participating Bank in Nigeria" in the CBN Agricultural Credit Guarantee Scheme Fund and the "Best Commercial Agriculture Bank" at the 2016 Nigeria Agriculture Awards.
As the bank forges ahead, it continues to sustain its support for farmers and other players in the agricultural sector through the provision of soft credit and other forms of incentives.
###
Note to editors:
About Union Bank Plc.
Established in 1917 and listed on the Nigerian Stock Exchange in 1971, Union Bank of Nigeria Plc. is a household name and one of Nigeria's long-standing and most respected financial institutions. The Bank is a trusted and recognizable brand, with an extensive network of over 300 branches across Nigeria.
In late 2012, a new Board of Directors and Executive Management team were appointed to Union Bank and in 2014 the Bank began executing a transformation programme to re-establish it as a highly respected provider of quality financial services.
The Bank currently offers a variety of banking services to both individual and corporate clients including current, savings and deposit account services, funds transfer, foreign currency domiciliation, loans, overdrafts, equipment leasing and trade finance. The Bank also offers its customers convenient electronic banking channels and products including Online Banking, Mobile Banking, Debit Cards, ATMs and POS Systems.
More information can be found at: www.unionbankng.com
Media Enquiries: Email [email protected]
-Ends-