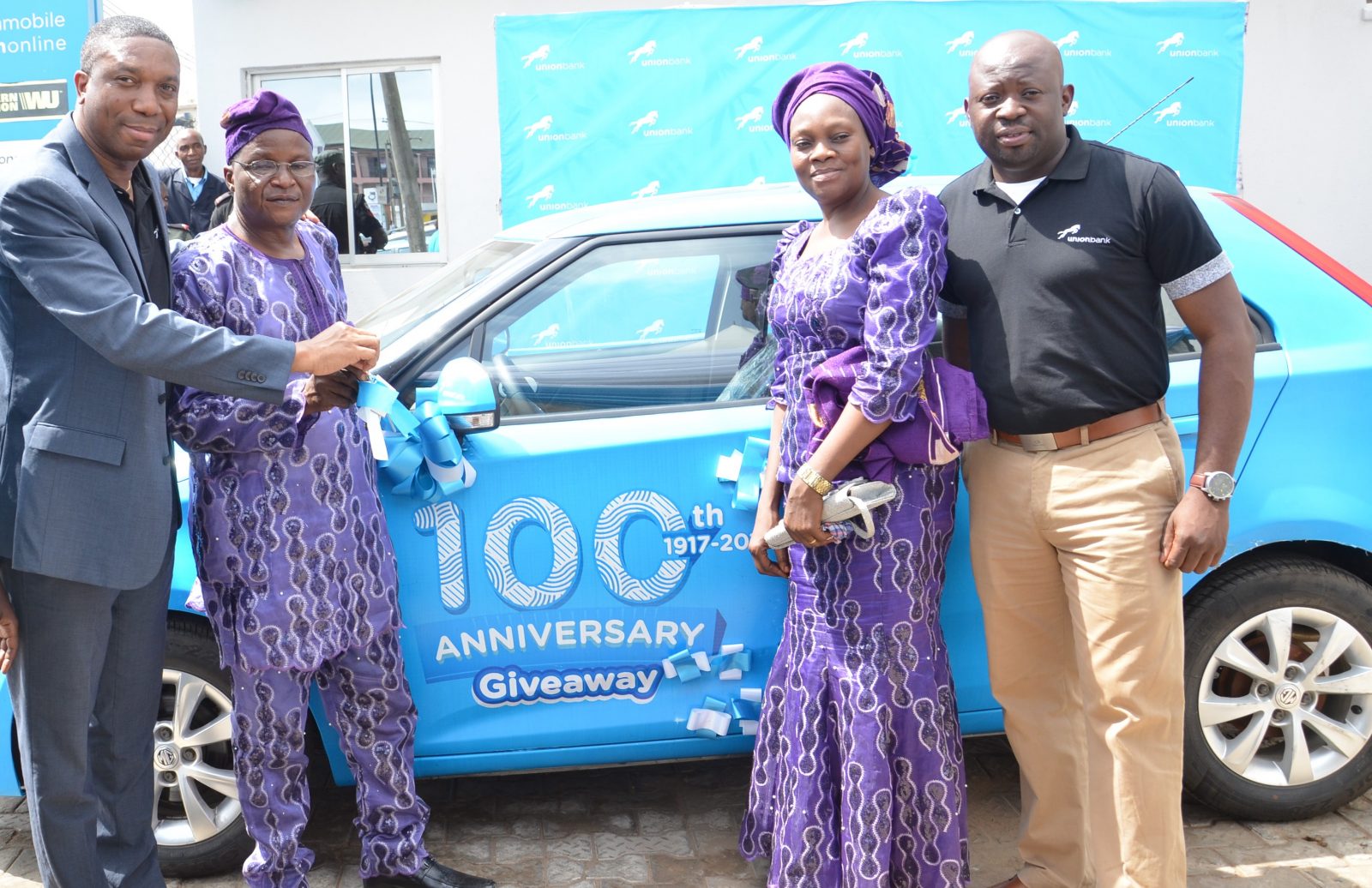 Lagos, Nigeria – A customer of Union Bank, Julius Ijibadejo has emerged the proud winner of a brand new MG3 car in the final draw of the Bank's Centenary Anniversary Customer Promo which kicked off last year. The lucky winner who is a trader based in Oshogbo was presented with the car at a ceremony which took place recently in Dopemu, Lagos.
The Customer promo which ran all through last year when the Bank celebrated a century of operations in Nigeria, saw Union Bank giving out 3 brand new cars as well as other amazing prizes including flat-screen television sets, generator sets, microwave ovens, shopping vouchers and airtime to several of its customers across the Country.
To qualify for the draw, customers were required to simply update their information with the bank, reactivate a dormant account or open a new account at any Union Bank branch.
Speaking concerning the customer promotion, Paul Aseme, Union Bank's Head of Retail Segments stated:
"We ran the customer promo as part of efforts to thank our customers for their commitment to us as a Bank. They remain the focus of our business and we are committed to partnering with them as they work to achieve their goals and ambitions.
At Union Bank, we will continue investing in innovative products and services in order to provide our customers with the support they require to live better, more productive lives."
Mr. Ijibadejo expressed his gratitude to the Bank and praised them for their generous gesture.
According to him:
"I am very grateful to Union Bank for this car. At first I did not believe that I had won a car but now I actually have the car keys in my hand. I am very excited about it and will continue to do business with Union Bank."
Union Bank remains a highly respected financial institution in the Nigeria having recently been declared the 'Fastest Growing Retail Bank in Nigeria' at the 2017 International Finance Magazine Awards.
As the Bank launches into its second century, it continues to provide quality banking services and improved customer experience to all their customers and stakeholders across all its touch points.
###
Note to editors:
About Union Bank Plc.
Established in 1917 and listed on the Nigerian Stock Exchange in 1971, Union Bank of Nigeria Plc. is a household name and one of Nigeria's long-standing and most respected financial institutions. The Bank is a trusted and recognizable brand, with an extensive network of over 300 branches across Nigeria.
In late 2012, a new Board of Directors and Executive Management team were appointed to Union Bank and in 2014 the Bank began executing a transformation programme to re-establish it as a highly respected provider of quality financial services.
The Bank currently offers a variety of banking services to both individual and corporate clients including current, savings and deposit account services, funds transfer, foreign currency domiciliation, loans, overdrafts, equipment leasing and trade finance. The Bank also offers its customers convenient electronic banking channels and products including Online Banking, Mobile Banking, Debit Cards, ATMs and POS Systems.
More information can be found at: www.unionbankng.com
Media Enquiries: Email [email protected]
-Ends-