For millions across the world, the past few months have been like the script of a thriller movie. Life as we know it has changed in ways we could never have imagined. People, communities, organisations, and even economies across the world have been shaken to their core!
But in the midst of all the uncertainty and gloom, there are individuals, groups, and small businesses among us rising and making a difference here in Nigeria. People who are being innovative, charitable, creative, and resourceful.
And so, it's exciting to hear that Union Bank has introduced the #UnionRiseChallenge to shine the spotlight on people who are doing all they can to thrive even in this pandemic and impacting the lives of others while at it.
Every week for 4 weeks, Union Bank is selecting 10 of the most inspiring stories to share and reward. If your story is selected, you will receive N250,000 Naira from Union Bank to support the work you are doing to RISE above the pandemic.
The Union Rise Challenge is already going viral as entries are pouring in from all over Nigeria, and some of the stories we have seen so far have been truly inspirational! The first set of winners was announced last week, and one of them was Bamigbose Adams, a recycler who has been producing hand washing units from recyclable materials as a way of fighting the spread of Covid-19.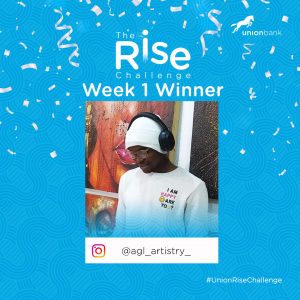 Another winner, Kazahchat School, a low-cost school in Abuja started a farm to boost their income during this period and help them pay their staff salaries.
The Union Rise Challenge is on until the end of June, so, if you have a story to tell, you should jump on it now:
Take a short video (no longer than 60 seconds) or post a picture with a detailed caption of your story Tell us how you have discovered new passions and impacted lives during this time.
Post it on your Facebook, Instagram, or Twitter feed with #UnionRiseChallenge. Tag @unionbankng and your friends.
So, come on and send in your entry. Click here to find out more! You can also follow Union Bank on Twitter, Instagram and Facebook.
This #UnionRiseChallenge is open to all Union Bank customers who have active accounts at the time of submitting their entries. Terms and conditions apply.