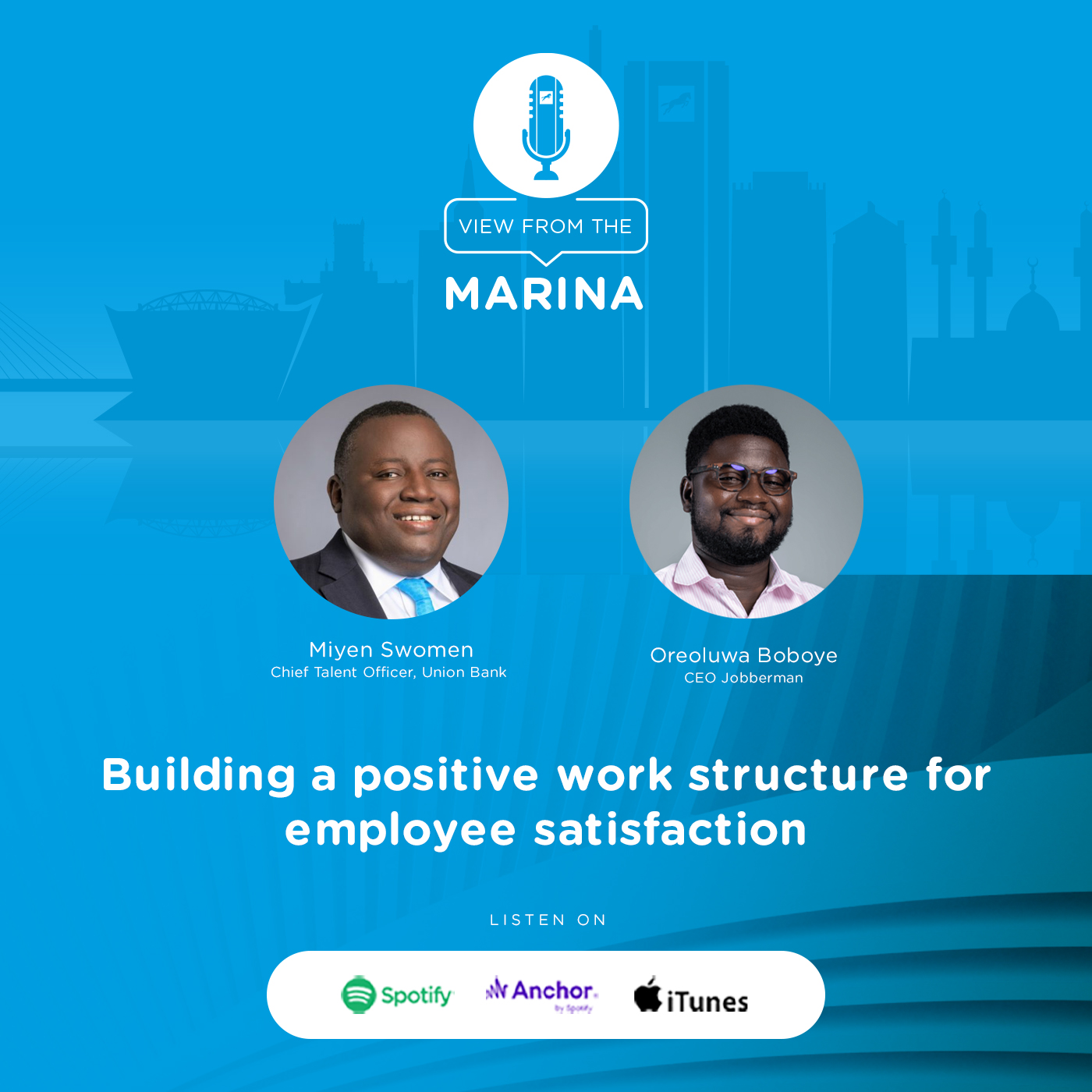 The post-pandemic era has ushered in an era now referred to as the Great Resignation. Globally, employees are quitting their jobs in droves and only organisations that take the time to learn what today's employees really want will have an edge in attracting and retaining the best talent.
The first episode of the new season of Union Bank's podcast – 'View From The Marina' addressed this topic. Miyen Swomen, Union Bank's Chief Talent Officer, sat with Oreoluwa Boboye, CEO of Nigeria's foremost recruitment portal Jobberman to discuss ways organisations can build a positive work culture for employee satisfaction.
Here are five key takeaways from the conversation:
Building a great workplace culture trumps strategy
Culture forms guard rails that guide and determine the behaviour of the workforce. Long-standing institutions like Union Bank have been able to thrive over the years because of their strong culture. As the age-old maxim goes, culture eats strategy for breakfast, which means that you can have well-thought-out strategies, however, without an enabling culture, it will be difficult to implement such plans. Organisational growth strategy must piggyback off culture for long-term success.
Competence + Qualifications + Soft skills + Great Attitude = Great Talent
It's not enough to hire for competence and qualifications; organisations must also look out for other qualities that indicate a good hire. one of the main challenges with talent recruitment is not the lack of ability or competence but the absence of solid interpersonal skills. One way companies can mitigate against this is to evaluate potential hires based on qualities such as time management, collaborative spirit, positive attitude etc.
Quality feedback and check-in after employee onboarding is important
During the early stages of employment, a key process that is often overlooked is feedback and check-in. Employers regularly need to check in with recruits after the onboarding process. Beyond overloading them with information regarding their job functions, KPIs and deliverables, it is also important that they have a good understanding of the role and what is expected of them. This will not only help them deliver on their job functions but also help them optimise their skills to help their company grow exponentially.
Employee engagement is key to retaining talent
Employee engagement is critical. In an age where employees want to feel a strong affinity with the mission and values of the organisation they work for, deliberate and focused engagement initiatives help promote inclusion and enhanced job satisfaction.
The future of 'work'
To round off the conversation, Ore gave us a glimpse of what roles would dominate the work sphere soon. In his opinion, because of the increasing expansion of the tech space its continued growth would open a need for the industry and roles like sales, marketing and customer experience will be what recruiters will be targeting to help deliver on that value.
Listen HERE for the full conversation. Follow @unionbankng on social media to catch future episodes of View From The Marina.